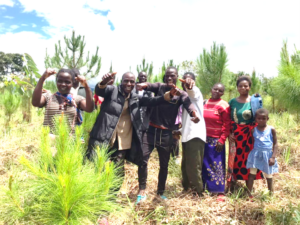 "Trees invite rains. Having enough rains means having enough food for ourselves and our children."
Youth Self-Help Group Jovwira has taken issues of climate change into their hands knowing that no one is coming to rescue them from the vicious effects of climate change in their community. The group that started in 2015, decided to be proactive by adding green business as a sustainable climate change resilience strategy in 2019. A business-minded and goal-oriented group that started with 45 members has planted and managed 8,719 pine trees. They anticipate selling the trees in 2030 (and replanting).
Jovwira is leaving no stone unturned on climate-smart agribusiness practices in T/A Mwalwene, Rumphi district, Malawi. The group that started in 2015 with 45 members with a mission of increasing social interaction, decided to step up their efforts after noticing the negative effects of climate change and what it may mean for their children in the near future. "We were just a group of youths roaming around with nothing productive to do, we decided to visit the District Commissioner who gave us a football to keep us busy", the chairman explained. "Much as football is fun, we wanted to engage in activities that would generate income considering that we are not going to be young forever", he narrated.
The same year, 2019, they met the District Commissioner again who offered them 6,719 pine tree seedlings to plant on a 6-hectare plot. "However, we had no land to plant the tree seedlings. We quickly lobbied with our local village headman GVH Mndala for land and he allocated us 6 hectares; enough to accommodate all the tree seedlings on offer", he narrated joyfully. After the youth finally had land, the group planted 6,719 pine trees and added another 2000 trees in 2020 to another farm. Apart from owning the group forest, the youth members also have individual trees planted in their own yards to increase the tree population in their community. "Trees invite rains, having enough rains means having enough food for ourselves and our children," explained their group secretary. During times they are not taking care of their trees. The group was assisted with soft loans from SOLINICA with support from Help a Child and implementing partner WACRAD, and they manage a 2-hectare groundnut field at club level while individually they are producing food and cash crops for both food security and income.
Through Help a Child, the group was also supported with solar irrigation equipment to help irrigate their crops during times when rains have failed due to climate change. The group is also taking care of a natural woodlot located at Mphafulu GVH, Jendausiku, T/A Mwalweni, Vg Chiyenda-Usiku through natural tree regeneration management, firebreak making and land clearing. The Self-Help group has also helped the youth to start micro-businesses such as selling bananas, avocados, and pears in their village communities. Jovwira is off to a great start! Already, they have generated 120 Euro in savings in the first quarter of 2022!