"I cannot describe the joy I felt when I heard my son speak, and I am truly the happiest mother in the world."
What do you do when your child doesn't speak like most other children their age do? Read Mariammal's inspiring story below.
This is Mariammal. She is a mother of two and lives together with her husband in Rgapuram village, India. Her son, Ravi, is special and for a long time, he was not able to speak as most 4 year-olds do. "Other kids started mocking my son", Mariammal tells, "which gave me so much stress".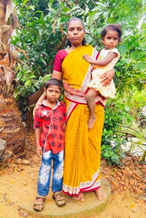 Mariammal is a very active member of the Mothers club that was formed through a Help a Child project in her village. One day, there was an awareness program on government schemes for special children. "I had attended this program with my son. The officer gave me hope that my son would be able to speak and explained to me what steps I had to take to bring my child to speech therapy and which authorities we should approach. Those words gave me so much joy and happiness. Under the guidance of the Help a Child project staff, I applied for speech therapy for my son. My application was granted and after speech therapy, now my son started to speak like other children. I cannot describe the joy I felt when I heard my son speak, and I am truly the happiest mother in the world. I am so thankful for the project that has given me so much joy in my life and my son's life. I am very grateful for the project that gave my son and me a bright future. Now I am involved in all the project activities to help the other children in my village live happily."